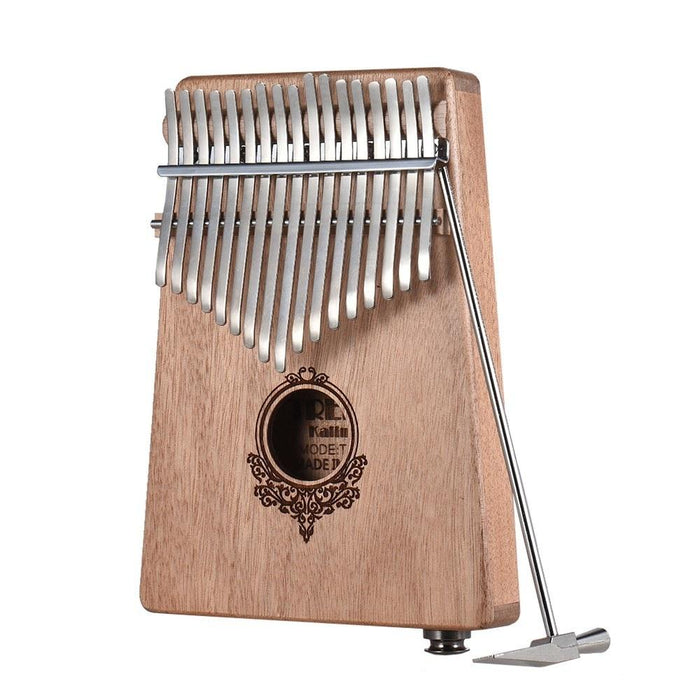 17-key Kalimba Portable Thumb Piano
Mahogany veneer kalimba with simple design and exquisite workmanship; triple sound holes and 17pcs metal tines, warm tone and excellent sound quality; built-in pickup and with 3.65mm interface for connecting speaker, ideal for both practice and performance.
International standard C tune design, the corresponding tune of the tines are 1(D), 2(B), 3(G), 4(E), 5(C5), 6(A), 7(F), 8(D), 9(C4), 10(E), 11(G), 12(B), 13(D), 14(F), 15(A), 16(C6), 17(E)(from left to right).
Easy to play, just holding it in your hands and plucking the tines with your thumbs to create clear and melodious sounds; with a teaching book for easy and quick learning.
Compact size and lightweight, convenient to carry around, you can make wonderful music anywhere; suitable for travel entertainment, religious ceremonies, weddings and other social gatherings.
Comes with a tuning hammer for adjusting the tines, musical scale sticker & notes sticker for playing assistant, a small bag for easy carry, 2 finger stall and a cleaning cloth.
Specifications:
Color: Wood Color/ Green/ Bluish Green (optional)
Material: Mahogany Veneer + Metal
Tonality: C tune
Keys: 17 keys
Item Size: 13 * 18 * 2.5cm / 5.1 * 7.1 * 1.1in
Item Weight: 204g/ 7.2oz
Package Size: 23.5 * 21 * 8cm / 9.3 * 8.3 * 3.1in
Package Weight: 470g / 16.6oz
?
Package List:
1 * Kalimba
1 * Carry Bag
2 * Scale Sticker
2 * Notes Sticker
1 * Tuning Hammer
1 * Cleaning Cloth
2 * Finger Stalls
1 * Teaching Book