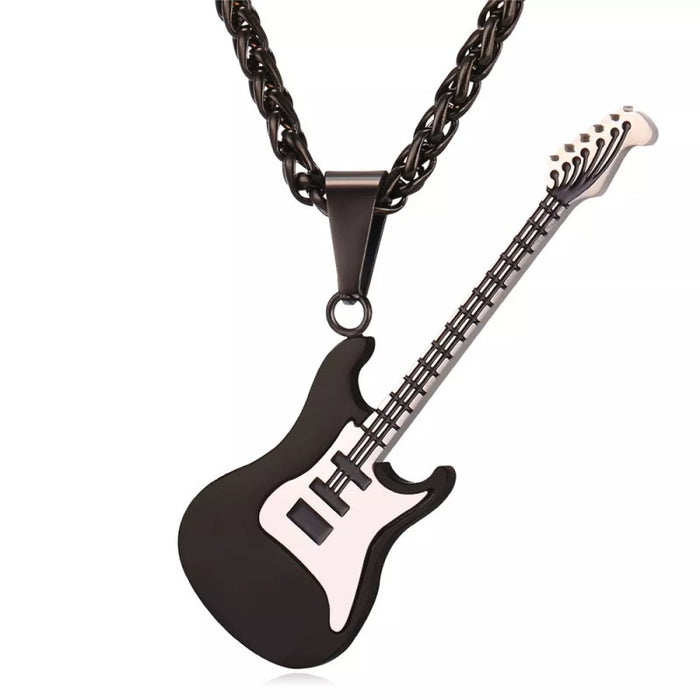 Musicwaker®High-quality Personalise Unique Guitar Necklace & Bracelet-Limited Edition

Wear this bracelet with pride knowing that a % of your purchase goes towards spreading the power and love of music to other people who need music to be healed and motivated.
😊This necklace and bracelet will also give you energy & love of music faith with simple, fashion and cool look.
☑️ Original Premium Design— Designed by our top senior jewelry expert for music  lovers like you. classic design capture all the surrounding light and sparkles to perfection, enhancing feminine and antique touch! So unique that cannot find in stores!
☑️ The First Real Music Necklace & Bracelet— Guitar lovers need a Specialized thing to show who we are and what we love!
☑️ Super High-quality Materials— Made of 304 stainless steel with corrosion plus fading resistance and breathable, wear-resistant, soft PU leather(Microfiber reinforced leather)
☑️ Best Unique Love Gift —Imagine how surprised and excited when you and people you loved see and wear this limited edition necklace and bracelet. Perfect fo daily accessories. Fit any outfit and occasion.
☑️ PERFECT AFTER-SALES SERVICE—Guaranteed with free 30 days return and 12 months warranty. We are committed to provide the best product and the best services to our customers.
Product Specifications
Pendant Size: 2.05" (5.2cm)
Length: 20" + 2" (50cm + 5cm)
Weight: 21g
Material: 316L Stainless Steel
Chain Type: Link Chain
100% Satisfaction and Money-Back Guarantee
Customer Shares


MORE : Unique Bracelet
https://musicwaker.com/collections/accessories/products/guitar-bracelet-1
SHIPPING INFO
Fast Free Shipping Over $29, buy this any one  to enjoy free Shipping Worldwide.
Due to high demand and handmade production, orders usually take 9-13 business days to process and deliver.

 

Please be patient, we are doing our very best to fulfill every order that we receive!
FREQUENTLY ASKED QUESTIONS
QUESTION: Does it for men or women?
ANSWER: It is unisex that both cool in men and women's wrist. We deeply believe that it is a bridge to connect your soul with others'. 
QUESTION: Does it adjust for people with small wrists?
ANSWER: The total length is 210mm with 170-190mm wearable length. The leather belt can be cut short to fit your wrist. So it is fit for almost everyone.
If you aren't in LOVE with your purchase, just let us know within 30 days, and you'll receive a stress-free refund.