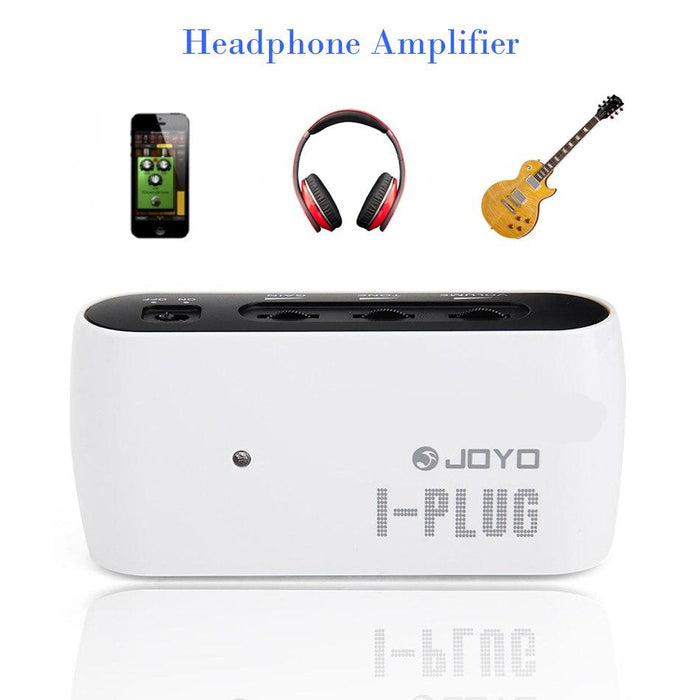 JOYO I-Plug Guitar Headphone Pocket Amplifier Mini Amp Sound Effects
Joyo I-plug is a Guitar amp with headphone output and built-in overdrive sound effects, When you plug in your headphone,
It allows you to practice your instruments without disturbing others or being disturbed when you use regular amplifying speaker with the hassles of guitar cables and pedals. .
I-plug can serve as a mini audio card when connected to smart devices such as Iphone, Ipad, Ipod,Android/Windows phones with your favorite apps you get from from app stores.
And then you can easily use this system to record your practice or performance.?
I-Plug has one mono Jack(6.35mm), one 4-pin 3.5 jack for apple devices(an adapter might be required to reverse polarity for connection to other Android or windows smart phones),
one 3.5mm stereo headphone output. It is powered by a 3v battery, The control panel has a drive knob, a tone knob and a volume knob!
?
Instrument jack: 6.35mm mono socket
Link jack:3.5mm 4-pin socket
Link input impedance: 100K
Link output impedance: 10K
Power: Two 1.5V AAA batteries
Product size: 9.8 * 4.7 * 3.5cm / 3.9 * 1.8 * 1.4in
Product weight: 56g / 2oz
Package size: 12.6 * 7.6 * 3.8cm / 5 * 3 * 1.5in
Package weight: 91g / 3.2oz
?
Package List:
1 * User Manual(English & Chinese)