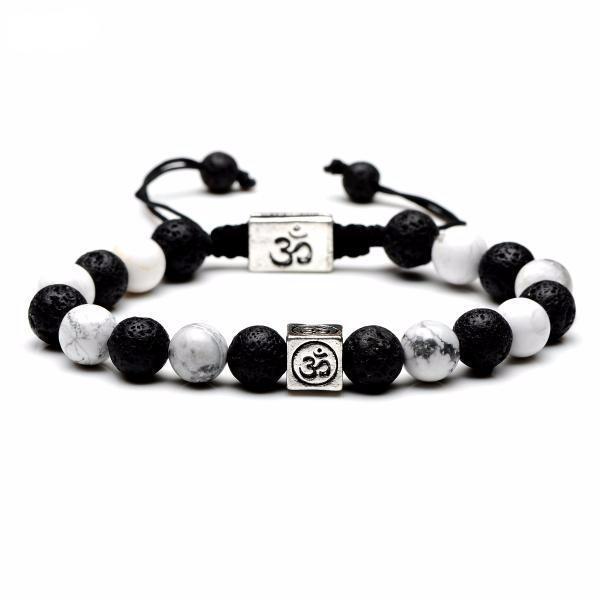 Natural Stone Yin Yang Box Om Charm Bracelet
Om is one of the most important spiritual symbols. It is the sound of the universe. It is the past, the present, and the future, all that was, all that is, all that will be is Om.
The symbol for Yin Yang is called the Taijitu. Most people just call it the yin yang symbol. Two halves that together complete wholeness. Yin and yang are also the starting point for change. Each half seek a new balance with each other. One aspect increases the other decreases to maintain overall balance of the whole. The nature of Yin and Yang flows and changes with time just as how the day gradually flows into night.
Lava Stone is wonderful for calming emotions. The quality of fire springs from the ground which lends a calming but intense energy. The raw energy gives the stone powers for rebirth and shedding unneeded layers of emotional attachment. Lava Stone is fantastic for stabilizing and grounding the root chakra because of the strong connection to the earth and its creation within the center of Earth. In ancient times, it was given to warriors to help them remain calm during battle.
Howlite promotes spiritual attunement and enhances communication with the physical and spiritual worlds. It balances and aligns all the chakras, and attunes the physical level to the spiritual. It strengthens your positive traits and also helps dissolve feelings of self-sabotage to promote self-realizations.
The combination of these stones gives balance as one is grounding and one helps connect you to higher realms. 
This bracelet is made with natural stone beads of Howlite and Lava Rock handpicked by experts to ensure the highest quality of this product and paired with a beautiful om charm. Exquisitely crafted to form one of the most well known symbols in the world, this symbolic piece features a silver or gold tone cube charm engraved on 4 sides and tinted with black to bring out the design of the Om symbol.
PRODUCT DETAILS
✔️ Item Type: Bracelet
✔️ Material: Natural Stone, Zinc Alloy
✔️ Clasp Type: Sliding Knot
✔️ Stones: Lava Stone, Howlite
✔️ Design: Om
✔️ Length: 18cm | 7.1in (adjustable)
✔️ Bead Size: 8mm
Please note pictures of products were taken in different light conditions. Computer screens have different settings that moderate colors and patterns independently. 
We take pride in every single piece we offer. When you buy from us you know it has been made with the utmost attention to detail that we are sure you will love.
🛒 Click the 'Add To Cart' button now to secure your order.
Recommended upgrades:
✅ Amplify the power of this bracelet with a monk's authentic Reiki blessing
✅ Protect your purchase with our Lifetime Warranty