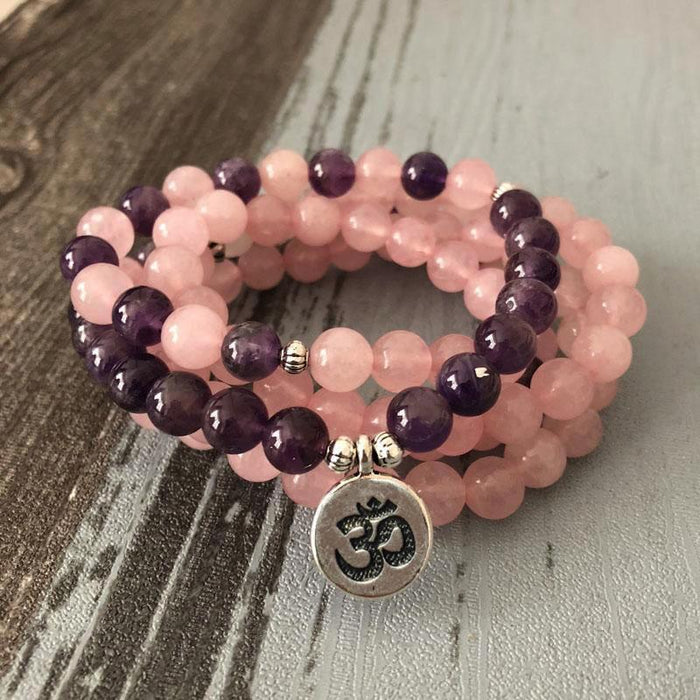 Rose Quartz Amethyst 108 Mala Bracelet
Rose Quartz is said to get its gentle pink essence is the gift of the god of love Eros to human kind and believed that the stone could even prevent the effects of aging with its mystical powers. It is the Heart Stone, the Crystal of Unconditional Love and radiates the energy of compassion, peace, tenderness, healing, nourishment, and comfort. Among its wonderful properties, restoring trust is one of its most powerful and important use while dissolving negative energies and emotions. It has the ability to bring the consciousness to a higher level and imbues its user with wisdom to forgive, understand, and deepen connections. Rose Quartz opens the heart to all types of love — love of self, love of family, love of friends, romantic love, and love of nature. It opens the heart to compassion for self and for others, and raises self-esteem. Rose Quartz eases guilt and balances emotions, lowering stress and bringing peace. Use Rose Quartz to enhance positive self-affirmations.
Amethyst is a stone of the spirit. The beautiful purple color of this stone is the color of spirituality, passion, and creativity. It is also a crystal of protection against negativity and psychic attack by transforming it into loving energy and returning it back to the universe as a positive force. It is a stone of selflessness, nobleness, spiritual consciousness, meditativeness, balance and inner peace. One very important feature of Amethyst is to serve as a stone of transfiguration and transformation, bringing harmony and peace wherever needed. It has been one of the most highly prized stones in both the ancient and modern world with its virtually unmatched legendary powers securing a special place in the ranks of crystal lore. It is a powerful stone that dispels any sort of clouded emotion that allows the user to think more clearly and enhance the meditative state.
The number 108 is considered a sacred number in traditions such as Buddhism & Hinduism. Buddhist prayer beads or malas are a traditional tool used to count the number of times a mantra is recited, breaths while meditating, counting prostrations, or the repetitions of a buddha's name. Still used by many yogis today, malas are used to recite mantras while practicing meditation. Other people wear mala beads today as a symbol and reminder of their own journey, whatever it may be. 
Product Details:
Item Type: Bracelets
Item Condition: Brand New
Material: Zinc Alloy, Natural Stone
Chain Type: Elastic Rope
Pendant Size: 1.5cm x 1.8cm | 0.6in x 0.7in
Length: 95cm | 37.4in
Bead Size: 8mm
We do not ship to APO, FPO Address
Limited Quantity.
We sell out often. 

Consider buying two or more. Get one for yourself or your friends/family.

Click "Add to Cart" now to grab yours.
Guaranteed Safe Checkout through All Major CC or Paypal